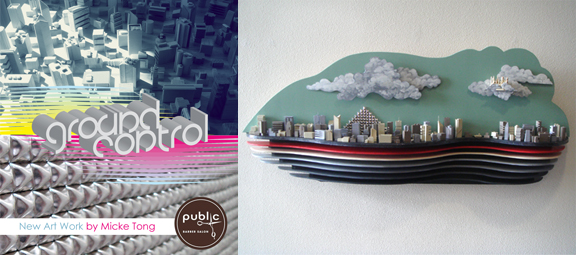 Part two in Micke Tong's mini-Series, following 2009's microHabitat, Ground Control survey's the belief in religion, wealth, the super natural and how these belief systems coincide with Earth's environment. The artist uses his sum of personal experiences and fantasies in mixed media to create sculptural landscapes, manipulating reality into minimal and aesthetically pleasing compositions. This mini-Series is again rich in color, using pearled car paints, enamels, and wood. There is also interesting use of acrylic plastic and metal Punk studs in which the artist adopts to symbolize people, lightening and a wall of power.
"As a young man I grew up Christian and was told God is omnipresent, he's every where all the time.", Tong recalls. This is the foundation for his "God's Headquarters" pieces, where Heaven appears in urban and suburban environments. He also says," Heaven wasn't created for just one denomination…". His curiosity of faiths also reaches to the Muslim world where the holy city of Mecca is portrayed. The artist explains," I find it amazing that there's a place in this world where a person is not allowed unless they wholly give themselves to the faith of Islam. It's a powerful message". Ground Control also takes a look at how mankind values wealth and the urge to believe in the supernatural such as space and time portals.
Micke Tong's art is his way of assimilating into humanity, discovery of the self and manipulating wondrous historical events to make his statement. He believes that, like life, his art and processes will be ever changing making his work a personal memoir and conversation with the viewer. The artist carries his fascination with the unique and unusual into a wide range of mediums including drawing, painting, video, performance and art installations. You can find more of Micke Tong's work at www.micketong.com.
Ground Control opens Saturday, April 3rd from 7:30PM-10:30PM at Public Barber Salon, 571 Geary Street, San Francisco, CA 94102.
Music provided by:
DJ Rantz (Fallout)
Anthony Gordon (Loquat)
Complimentary Refreshments
** Studio Visit and Interview with the Sardonian
[youtube=http://www.youtube.com/watch?v=9CaVoVcUsYU]