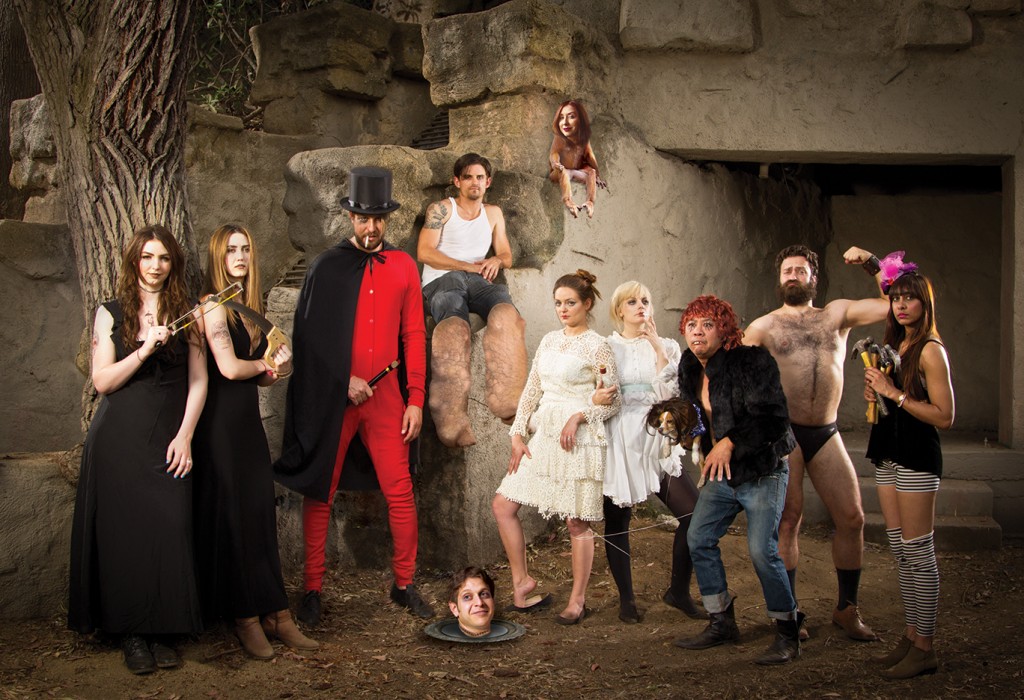 Recently I threw together a birthday surprise photo shoot for my good friend, Eric Curtis, a brilliant photographer and all around good guy. I gathered what close friends of his I could for this image which was inspired by master of darkness Joel-Peter Witkin. After taking Eric to see the opening reception of the Witkin brothers show, Twin Visions, at Jack Rutberg Fine Arts in Los Angeles, I had spawned the idea.  Eric loves JPW and they both hail from New Mexico. Blam! son, it must be done, and so the concept of "Circus Freaks" came about.
Dead bodies are a bit hard to find and dragging them about in public could get a law abiding citizen like myself in trouble, with that said, we had to make do with costumes on hand.  I used my Canon 60D/24-105 L-series lens and had our friend Zach borrow Eric's own lighting equipment to use for the shoot without his knowledge of what they were really being used for.  The funny thing is Eric actually came to my loft and saw his own equipment in my living room.  He inquired how I had obtained them and with my skills in Jedi mind tricks, I was able to convince him that I had Zach drop the strobes off after he used them so I can "try them out".  In return, Eric asked if I needed any help. Hah! I can be a manipulative genius for good when the time calls.  Best to have me on your side.
In the end I think it came out super well with the help of everyone on board.  Never under estimate great people, a beautiful day, booze, the old LA Zoo, and Photoshop. The collaboration was a success in so many ways. It was presented to Eric on May 10th with gushing acceptance and love.  Mission accomplished.  Looking forward to more devious photo shoots in the near future. Thank you, Vanessa, Madeline, Reshma, Charles, James, Scott, Leah, Rosco, Hannah, Zach and Laura!
Check out Eric Curtis' amazing photo skills at: http://www.ericcurtisphotography.com/